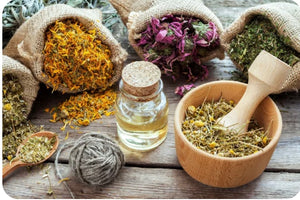 White Sage Organic
Regular price
$8.00
$0.00
Botanical Name: Salvia apiana
This 100% natural and aromatic Wildcrafted White Sage was gathered in a responsibly, ecologically sound, and respectful way. The plants were not harmed, and nothing was wasted.
White Sage Leaf, which comes from the Salvia apiana plant, is available from The Bougie Garden in a whole leaf form. White Sage Leaf is also commonly known as Smudging Sage, referring to the Native American use of the herb to create an incense called smudge sticks. The herb is an evergreen perennial that thrives in the warm weather, dry soil and little rainfall found in Southern California and the northwestern parts of Mexico.
Our White Sage Leaf comes to us directly from our United States growers. We take the raw materials and process them ourselves in our own milling facility in order to bring you the highest quality dried herbs available today. All of our bulk dried herbs come with a complete satisfaction guarantee.
Warning: For external use only.
WHAT IS WHITE SAGE USED FOR?
Sage conatins high amounts of volatile oils with antioxidant properties. The rosmarinic acid in sage functions with antioxidant properties. The leaves and stems of the sage plant also contain antioxidant enzymes, including SOD (superoxide dismutase) and peroxidase. Polysaccharides naturally found in Sage, have immune supportive characteristics that help the membranes of the throat support a normal inflammatory response. It is also helpful in supporting normal transition in women through the cooling properties it provides. Research indicates that it may also support healthy prostate function.
Active Constituents of White Sage
Volatile oils: camphor, 1,8-cineole, alpha- and beta-pinene, bornyl acetate, geraniol, limonene, camphene, linalool, terpineol, gamma-terpinene, alpha-humulene, and beta-caryophyllene. Phenolic diterpene compounds: carnosol, 12-O-methylcarnosol, 12-O-methyl carnosic acid, and carnosic acid. Triterpenoids: ursolic acid, oleanolic acid, and their derivatives, monoterpenes, & sesquiterpenes. flavonoids (including apigenin, diosmetin, and luteolin), and phenolic acids, including rosmarinic acid.
*Organic
---
Share this Product
---
More from this collection