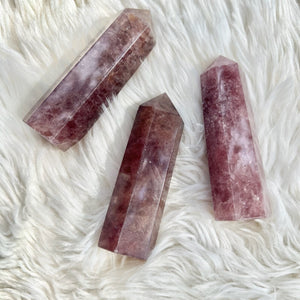 Strawberry Quartz Obelisk Tower
Regular price
$17.77
$0.00
Strawberry quartz is a wonderful stone for those who are looking to develop their psychic abilities. It's also a great stone for anyone who is interested in exploring the spiritual realm and expanding their consciousness. If you're a beginner, strawberry quartz can help with your connection to spirit as well as protect you from negative energies that might interfere with the process.
As a stone of self-love and understanding, Strawberry Quartz will encourage you to be your best and most authentic self. It's a wonderful stone for those who don't feel like they're entirely understood by other people. Strawberry quartz will help you come out of the shadows and allow others to see what makes you unique and beautiful!
Even though Strawberry Quartz is a beautiful pink color, the meaning of strawberry quartz is all about red. The strawberry quartz represents life and growth, passion and sexuality, love and affection. It can also symbolize a mother's nurturing abilities--and it's no coincidence that strawberry quartz is often given to expectant mothers! No wonder this stone has been considered a gem of happiness and good fortune.
In fact, strawberry quartz is an excellent stone to use as a talisman during pregnancy--or even just to keep on your desk at work! As a stone of joy and abundance, this gem will help attract positive energy into all aspects of your life. It's also a wonderful stone for those who might be going through a period of depression or sadness. The strawberry quartz will help to enlighten your foggy feelings and cheer you up!✨
You will receive one sstrawberry quartz stone tower  
Approximately 2.5" -4.25" tall with a 1"- 1.5" base.
This size is approximate and your stone may be slightly smaller or larger.
---
Share this Product
---
More from this collection