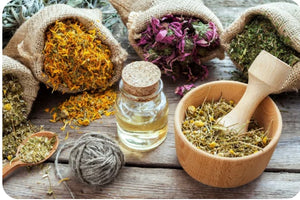 Stinging Nettle Leaf Organic
Regular price
$7.00
$0.00
Botanical Name: Urtica dioica
Common Names: Stinging nettle, common nettle, greater nettle
Use: (a) Alterative, (b) Alkalinizing diuretic, (c) Urinary tract tonic, (d) Rubefacient, (e) Nutritive, (f) Anti-inflammatory, Antioxidant.
Use: Nettle is beneficial as a spring tonic and rejuvenator. It has a powerful, supportive effect on the immune system, the circulation, the urinary tract, nervous system, respiratory tract, digestive system, and endocrine system. Nettle leaf also has a long history of use for modulating the body's inflammatory pathways and supporting upper respiratory health. 
Active Constituents of Nettle
Nettle is a good source of vitamins A, C and E as well as B1, B2, B3 and B5. It is rich in protein, calcium, iron, folate, potassium, magnesium, manganese, phosphorous, selenium and zinc. It also contains alpha and beta hydroxysitosterols, appreciable amounts of quercetin and rutin.
---
Share this Product
---
More from this collection