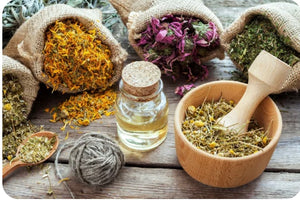 Rosemary Leaf Organic
Regular price
$6.00
$0.00
Botanical Name: Rosmarinus officinalis
WHAT IS ROSEMARY USED FOR?
Rosemary is a very chemically complex plant, and one that is loaded with antioxidants. Most antioxidants support a healthy inflammatory response, and so this seems to be the case with Rosemary. Rosmarinic acid, carnosic acid, and labiatic acid, all constituents of the rosemary plant are commonly used as a natural preservatives in the food industry. Rosemary also encourages healthy digestion and supports liver health. Because of its potent antioxidant properties, Rosemary and its various constituents have been the focus of numerous scientific studies and clinical trials.
Active Constituents of Rosemary
1,8-cineole, borneol, camphor, carvacrol, and alpha-pinene, phenolic diterpenes, flavones, the caffeic acid derivative rosmarinic acid, the triterpene ursolic acid, other terpenes such as verbenone, and carnosic acid.
Disclaimer
This information in our Herbal Reference Guide is intended only as a general reference for further exploration, and is not a replacement for professional health advice. This content does not provide dosage information, format recommendations, toxicity levels, or possible interactions with prescription drugs. Accordingly, this information should be used only under the direct supervision of a qualified health practitioner such as a naturopathic physician.
---
Share this Product
---
More from this collection