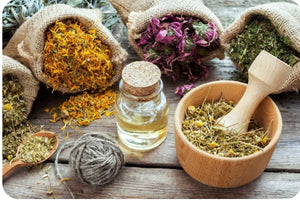 Red Clover Blossom Organic
Regular price
$8.00
$0.00
Botanical Name: Trifolium pratense
Common Names: Cow clover, wild clover, purple clover
TRADITIONAL HEALTH BENEFITS OF RED CLOVER
Immune Support, Hay Fever, Liver & Kidney Cleanse Support
WHAT IS RED CLOVER USED FOR?
Red Clover is primarily nutritive, but also used to support proper lymphatic function (alterative), immune support, healthy skin, and proper endocrine function. It does contain genistein, daidzein, and biochannin-A among other isoflavones and concentrated standardized remedies made from this plant deliver these chemicals in an isolated state. Since the plant is so nutritionally complex, it is probably best to use it in its unadulterated form as an extract or tea. Supplements high in these types of flavonoids are generally useful as a tonic for menstrual irregularity and menopause.
Active Constituents of Red Clover
Isolfavones (Daidzein, Genestein, Biochannin-A, Formonentin), flavonoids (apigenin, luteolin), phenolic acids, minerals, and saponins
Not for use during pregnancy or lactation. If you have a medical condition or take pharmaceutical drugs please consult your doctor prior to use.
---
Share this Product
---
More from this collection