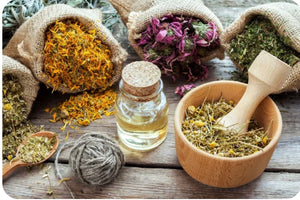 Milk Thistle Organic
Regular price
$14.00
$0.00
Botanical Name: Silybum marianum
Common Names: Holy thistle, Lady's Thistle, Mary thistle, Marian thistle
Use
Numerous scientific studies have explored Milk Thistle and a group of its constituents called silymarins. Many of these clinical studies have demonstrated that this herb supports healthy liver function and provides powerful antioxidant protection.
A primary constituent of silymarin called silibinin also helps to support healthy liver function, encouraging healthy cholesterol synthesis by the liver.
In addition to its well-recognized role in promoting liver health, key constituents in Milk Thistle also help to maintain normal kidney function and promote optimal immune function.
Active Constituents of Milk Thistle
Silymarin including silybin A, silybin B, isosilybin A, isosilybin B, silydianin, silychristin A and B, and silibinin
Organic
---
Share this Product
---
More from this collection