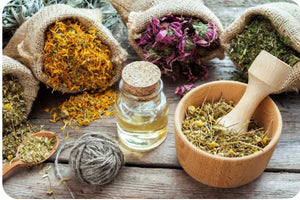 Licorice Root Organic
Regular price
$8.00
$0.00
Botanical Name: Glycyrrhiza glabra, Glycyrrhiza uralensis (Sliced)
Common Names: Gan cao, sweet root, glycyrrhiza, Radix liquiritiae
TRADITIONAL HEALTH BENEFITS OF LICORICE ROOT
Digestive Support, Energy Support, Immune Support, Liver & Cleanse Support
WHAT IS LICORICE USED FOR?
Licorice is most known for its soothing effect on inflamed mucous membranes of the throat, lungs, stomach and intestines. The root is used for coughs, all throat and bronchial irritations, urinary tract irritation, adrenal fatigue, immune deficient states, allergies, gastric and duodenal ulcers, liver disorders, exhaustion due to adrenal stress, and dermatological detoxification
Not for use during pregnancy or lactation. If you have a medical condition or take pharmaceutical drugs please consult your doctor prior to use. Licorice should not be taken if you have kidney or liver disease, high blood pressure, edema, or excessive potassium depletion.
*Organic
---
Share this Product
---
More from this collection