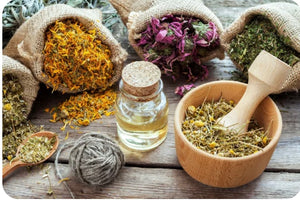 Irish moss
Regular price
$19.00
$0.00
Irish Moss
Chondrus crispus
TRADITIONAL HEALTH BENEFITS OF IRISH MOSS
Immune Support, Beauty & Radiance Support
Did you know that this bushy seaweed, Chondrus crispus or Irish Moss, saved thousands of Irish from starvation during the potato famine of the mid-19th century?
Irish moss is a curly red, purple, or yellow green plant which is found clinging to submerged rocks. This tough and stringy seaweed grows in tidal pools along the northern Atlantic. Chondrus crispus is harvested commercially to make carrageenan, a thickening agent for jellies, puddings, and soups, and is also a well-known traditional herbal remedy in Ireland.
Chondrus crispus is considered by some to be a nutritious and remarkable gift from the sea. Full of rich nutrients, Irish Moss is used by some herbalists to make a tonic for promoting a vibrant glow.
The typical preparation of Irish Moss is as a powder used in a tea or tincture. Chondrus crispus is sometimes combined with cinnamon or licorice as a soothing remedy.
Not for use during pregnancy or lactation. If you have a medical condition or take pharmaceutical drugs please consult your doctor prior to use.
---
Share this Product
---
More from this collection