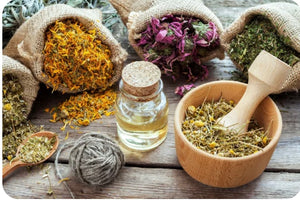 Holy Basil Leaf Tulsi Organic
Regular price
$10.00
$0.00
Botanical Name: Ocimum tenuiflorum/Ocimum sanctum (Rama & Krishna), Ocimum gratissimum (Vana)
Common Names: Holy Basil, Tulsi
While related to the more well-known Ocimum basilicum, the basil used in cooking, Holy Basil is a medicinal herb used to make teas and extracts. It's known as a sacred plant in India.
The Rama and Krishna varieties share the interchangeable botanical names Ocimum tenuiflorum and Ocimum sanctum; the two Latin names are synonymous with each other. They are, however, more like fraternal twins: The Rama variety is a short, annual, heavily flowered plant originally introduced to the U.S. as "Holy Basil". It is the most common type found in cultivation in the U.S. and is known for its cooling and mellow flavor and makes a delicious tea.
Vana has its own Latin name: Ocimum gratissimum. It is the original wild bush basil. Its natural habitat ranges throughout India and across North Africa and down into East Africa. Of the three varieties, it is the most fragrant.
Warning:
Holy Basil Leaf, Rama & Krishna (Ocimum tenuiflorum/Ocimum sanctum): Holy Basil may modify glucose regulation.
Holy Basil Leaf, Vana (Ocimum gratissimum): Not to be used during pregnancy.
WHAT IS HOLY BASIL USED FOR?
As a rasayana and adaptogen, Holy Basil maintains equilibrium among biochemicals associated with the stress system in the body. Ursolic, Rosmarinic acids and Eugenol have all shown antioxidant activity and support normal levels of inflammation. 
Active Constituents of Holy Basil
essential oil (Eugenol, carvacol, linalool, caryophylline), and polyphenols (rosemarinic acid), triterpenes (ursolic acid) and flavonoids
Not to be used during pregnancy. If you have a medical condition or take pharmaceutical drugs, please consult with your doctor before use.
---
Share this Product
---
More from this collection