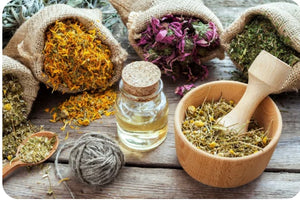 Hibiscus Organic
Regular price
$10.00
$0.00
Hibiscus
Rosa sinensis
Use
Hibiscus flowers contain cyanidin, a naturally occurring pigment also found in healthy berries, cranberry, hawthorn, grapes, raspberry, acai, elderberry, as well as red onions. Studies suggest that extracts of Hibiscus help maintain healthy cholesterol levels that are already in the normal range. It has also been used traditionally to support healthy fluid retention levels and overall cardiovascular health.
Active Constituents of Hibiscus
Approximately 15%-30% of the plant is made up of plant acids, including citric, malic, tartaric acids and allo-hydroxycitric acid lactone—i.e. hibiscus acid, which is specific to this plant.
Other chemical constituents are many, including alkaloids, L-ascorbic acid, anthocyanin, Beta-carotene, Beta-sitosterol, citric acid, polysaccharides arabins and arabinogalactans, quercetin, gossypetin and small amounts of galactose, arabinose, glucose, xylose, mannose and rhamnose.
Organic
---
Share this Product
---
More from this collection