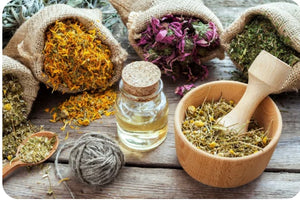 Hawthorn Berries Whole
Regular price
$12.00
$0.00
TRADITIONAL HEALTH BENEFITS OF HAWTHORN
Diuretic, Mucilaginous (berries),  Astringent (especially the leaves), Antioxidant, Cardiotonic, Cardioprotective, Trophorestorative for the heart.
WHAT IS HAWTHORN USED FOR?
Hawthorn can most certainly be called a cardiovascular tonic, improving overall cardiac function. It could be considered an adaptogen specific for the circulatory system and is used for numerous circulatory system conditions. It is a slower acting, nourishing plant which is generally taken long term for 3 months or more to get the best effects in chronic cases. Although more commonly used for its long term effects practitioners have seen immediate reactions in use of Hawthorn for angina and grief related heart disease.
 It helps maintain healthy arteries, veins and heart by enhancing the connective tissue structure of the endothelial lining of the heart, blood and lymphatic vessels. This gives these structures resiliency against injury, disease and the normal wear and tear of aging. It improves cardiac function in general. It is used for functional and organic heart disorders with pain, dyspnea, precordial oppression, rapid and feeble heart action, valvular insufficiency, cardiac hypertrophy, angina, venous stasis, endocarditis, congestive heart failure, coronary artery disease, cerebral circulatory disturbances, hypertension, hypotension and hemorrhoids. Hawthorne improves coronary blood flow, reducing the likelihood of anginal attacks and relieving anginal symptoms. The increased blood supply directly affects the cardiac cells, enhancing nutrition to the cells and their activity. It also decreases peripheral vascular resistance. These actions assist in lowering high blood pressure.
Arrhythmias are normalized with the use of this herb. Most chronic heart diseases can be affected by use of this herb. Research has shown objective proof of efficacy in patients with cardiac insufficiency.
The flavones affect the calcium metabolism of the myocardium by inhibiting phosphodiesterase. This increases its ability to contract and support a normal rhythm. Hawthorne improves overall cardiac function.
Not to be used during pregnancy. If you have a medical condition or take pharmaceutical drugs, please consult with your doctor before use.
---
Share this Product
---
More from this collection