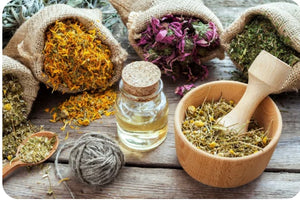 Goldenseal Leaf
Regular price
$29.00
$0.00
TRADITIONAL HEALTH BENEFITS OF GOLDENSEAL
Digestive Support, Immune Support, Urinary Tract Support
Alterative, Astringent, Laxative in small doses, Adrenolytic, Styptic, Bitter tonic, Antimicrobial.
WHAT IS GOLDENSEAL USED FOR?
Goldenseal is used for colds, sore throats, acute and chronic middle ear infections, conjunctivitis,  infected oral cavity, vaginitis and a variety of other mucous membrane problems. Goldenseal is also commonly used for gastrointestinal disorders with a focus on infectious or parasite induced issues. Goldenseal has antimicrobial action with an astringent feature. The astringency is what makes it so useful for atonic chronic mucosal problems with pale relaxed tissues as well as subacute mucosal membrane problems with red, engorged tissues. Small doses have a stimulating, tonifying effect upon the gastric tissues. It decreases passive bleeding. It also stimulates the normal action of the liver and gall bladder.
Not to be used during pregnancy or lactation. If you have a medical condition or take pharmaceutical drugs, please consult with your doctor before use.
---
Share this Product
---
More from this collection