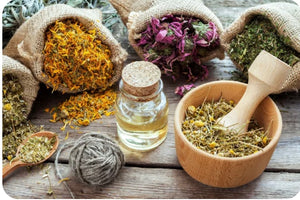 Black Walnut Leaf
Regular price
$16.00
$0.00
Black Walnut Leaf
Juglans nigra
Traditionally black walnut leaves, bark, nuts, and hulls were used by indigenous populations as a source of food and wellness. Black walnut leaf is astringent and can be applied topically or prepared as an infusion.
The leaves, bark and husks of black walnut have also been used traditionally as medicines by American Indians and later by European settlers. The bark of black walnut was chewed for toothaches and the inner-bark was used as a laxative. The fruit-husk was chewed for colic, the juice used on ringworm and poulticed for inflammation. The leaves are considered astringent, and insecticidal against bedbugs and mites (i.e. scabies). 
Walnut leaf today is most often used externally as an astringent for treating eczema, herpes and ulcers. The leaves of black walnut are most often used to treat hemorrhoids as well as liver and gallbladder problems. In folk medicine, black walnut leaf was also given to relieve headaches, hepatitis, and skin conditions, although there is little evidence to back up these claims. Black walnut juice is believed to cure herpes, eczema, and worms. 
Organic
---
Share this Product
---
More from this collection