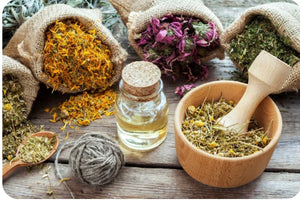 Astragalus Huang Qi
Regular price
$12.00
$0.00
Astragalus
Astragalus membranaceus
TRADITIONAL HEALTH BENEFITS OF ASTRAGALUS
Energy Support, Immune Support, Liver & Cleanse Support, Stress Support
WHAT IS ASTRAGALUS USED FOR?
There is a great deal of research interest in Astragalus. It contains Astragalosides (antioxidants), which support the integrity of the respiratory tract. In addition, the polysaccharides found in Astragalus are known for their immune-supporting properties. Astragalus herb also supports deep immune function by promoting normal levels of specific immune cells and aids in their function. Astragalus appears especially effective when immune function is stressed by environmental or endogenous challenges.
Use: (a) Adaptogenic, (b) Immunomodulating, (c) Anti-tumor activity, (d) Promotes tissue regeneration, (e) Anti-inflammatory, (f) Antiviral, (g) Protects kidney function, (h) Cardiotonic, (i) Diuretic, (j) Hypotensive, (k) Protects against WBC drops during chemotherapy, (l) Antioxidant, (m) Hepatoprotective.
Not for use during pregnancy or lactation. If you have a medical condition or take pharmaceutical drugs please consult your doctor prior to use.
---
Share this Product
---
More from this collection