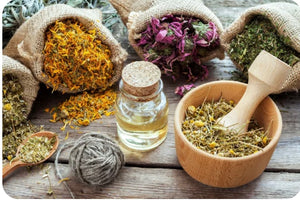 Ashwagandha Root Organic
Regular price
$7.00
$0.00
Botanical Name: Withania somnifera
Common Names: Winter cherry, Indian ginseng
Ashwagandha is a plant that is native to Africa, including Algeria, Egypt, Chad, Kenya, Zimbabwe, Swaziland; Asia with reference to Lebanon, Syria, Turkey, India; and Europe in terms of Greece, Italy and Spain. Withania somnifera thrive in the warm climates of all of these countries. Our bulk herbs suppliers for Ashwagandha root are from India. India has taken the lead in cultivating different varieties of Ashwagandha root, selecting those with larger roots and the ability to survive in less hospitable climates for development.
WHAT IS ASHWAGANDHA USED FOR?
Adaptogens support the ability of an organism to cope with stress and thereby conserve energy. Ashwagandha rejuvenates and tonifies the entire system, especially the endocrine and immune systems.
Active Constituents of Ashwagandha
Steroidal compounds which include the lactones Withaferin A, and carbon-27-glycowithanolides, known collectively as Withanolides. It also contains a fair amount of alkaloids; tropine, pseudotropine isopelletrine, and anaferine, and saponins.
Not to be used during pregnancy. If you have a medical condition or take pharmaceutical drugs please consult with your doctor before use.
*Organic
---
Share this Product
---
More from this collection