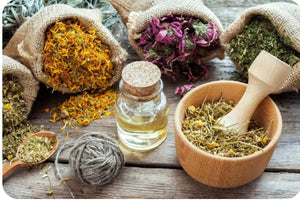 Dandelion Root Organic
Regular price
$14.00
$0.00
Dandelion Root
Taraxacum officinalis
WHAT IS DANDELION USED FOR?
Traditionally, dandelion roots and leaves were used to support the liver. Native Americans also boiled dandelion in water and took it to support healthy excretion from the urinary tract, skin health, and upset stomach.
In Traditional Chinese Medicine as well as European herbal Medicine Dandelion was and still is used to support the liver and gall bladder, to promote digestion and to support the detoxification process. The leaves have more of a noticeable effect for supporting healthy fluid elimination.
Dandelion is a rich source of vitamins A, B complex, and C, as well as minerals such as iron, potassium, and zinc.
Dandelion leaves are used to add flavor to salads, sandwiches, and teas. The roots are used in some coffee substitutes, and the flowers are used to make wines.
Active Constituents of Dandelion
Bitter glycosides, triterpenoids, tannins, volatile oils, inulin, vitamins A, B complex, C, Calcium, Fiber, Iron, Magnesium, Manganese, Phosphorus, Potassium, Protein, Selenium, Silicon, Sodium, Zinc.
*Organic
---
Share this Product
---
More from this collection