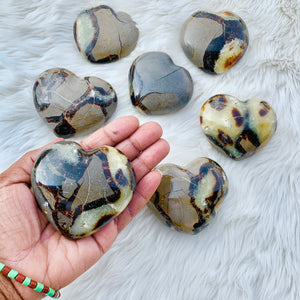 Septarian Heart Stone 2.5" - 3"
Regular price
$21.21
Sale price
$29.99
You receive one heart 
Septarian Yellow comes from Madagascar, formed around 50-70 million years ago, brings health and well being, nurturing, enhances communication, grounding, shield agaings harm, relieves muscle spasms.
 Septarian Nodule, also referred to as Dragon Stone, is a tri color concretion composed of Aragonite (the brown), Calcite, (the yellow), and Limestone (the grey). The name comes from the word "Septaria", which usually refers to any concretion with internal cavities or cracks.

It activates and unlocks the heart. Piemontite has been known to strengthen and rejuvenate the heart and heal the emotional body. Its red rays pulsating off a chunk of Epidote enhances the rate at which the heart heals, and aids in a reconnection between the mind, heart, and soul.
---
Share this Product