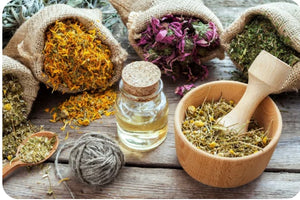 Gymnema Sylvestre Leaf Organic
Regular price
$11.00
$0.00
Botanical Name: Gymnema sylvestre
Common Names: Gurmarbooti, gurmar, periploca of the woods, meshasringi
TRADITIONAL HEALTH BENEFITS OF GYMNEMA SYLVESTRE LEAF?
Hypoglycemic, Hypolipidemic,  Antiatherosclerotic.
WHAT IS GYMNEMA SYLVESTRE LEAF USED FOR?
Gymnema is primarily used for type 2 diabetes. Gymnema will desensitize the taste buds to sweet and bitter-tasting foods for 3 hours.
Do not use in cases of hypoglycemia. Blood sugar must be monitored for rapid drops after taking this herb. Often the oral hypoglycemic drug or insulin dosages need to be decreased when Gymnema is used.
This effect can be avoided by taking the herb in capsule form. This will make a piece of bread taste like straw. Although helpful if you are dieting, this is not pleasant for the average person. Gymnema should not be given to hypoglycemic individuals. This will exacerbate the symptoms.
---
Share this Product
---
More from this collection